Invisalign® is an innovative way doctors use for re-aligning your teeth without metal braces and all the hassles and frustration that comes with it. Metal braces are uncomfortable, often cutting the soft tissues of your mouth, and the debris that it gathers is often hard to clean. Invisalign's removable aligner can be easily snapped in and out of your mouth. That makes it easy to clean and there are no sharp edges in the aligner.
What are Invisalign cleaning crystals?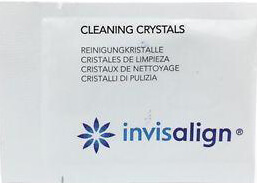 Designed by the Invisalign brand, Invisalign cleaning crystals are used for cleaning and disinfecting clear aligners and retainers thoroughly. They are specially created formulas for killing the bacteria that grows on the aligner. Cleaning crystals also remove plaques and keep the removable aligners fresh and clean.
Invisalign cleaning crystals sanitize the aligners for regular use. Clean aligners stay invisible and subtle. Because of these qualities, people prefer them over braces. Stuck food particles can help in the growth and spread of bacteria. Invisalign cleaning crystals kill the ones trapped in the crevices.
Cleaning crystals also prevents plaques from developing on your aligners. They protect you from gum diseases that are caused by the development of bacteria in the aligners. And it also cleans any accumulated debris from it, keeping your breath fresh.
How to use Invisalign cleaning crystals?

Follow these steps to use Invisalign cleaning crystals:
Remove your retainers or aligners.
Put them under running lukewarm water to gently rinse them and clean them of any debris.
Take a closed container and fill it with warm water, enough to submerge the aligners
Put in the container one sachet of Invisalign cleaning crystals.
Gently stir to dissolve it completely.
Place your retainers or aligners in the container carrying the mixture of crystals and water.
Wait for 15-30 minutes, let it soak.
Take them out from the solution and rinse them under lukewarm water.
With a soft-bristled toothbrush, gently scrub the aligners on both sides. This will remove any leftover debris from the aligners.
Rinse your aligners under running lukewarm water for one final time.
If you check the Invisalign cleaning crystals reviews on Amazon, you will a 4.7-star rating for this product. It means the product quality is good and you can buy it.
How often should you use Invisalign cleaning crystals?

Although, washing your aligners once every day is fine, washing them twice a day will prevent them from having a bad odor and changing color. You should treat aligners or retainers like you treat your teeth, especially after eating or drinking. Try to wash them under running water, or brush them softly every time you take them out. If you ever misplace them or drop them, clean them thoroughly before putting them back in your mouth. Avoid denture solutions as they can turn your aligners yellow. However, you can use clean antibacterial soap for cleaning them and avoid using colored soaps.
Invisalign cleaning crystals alternatives

Here are some best alternatives to Invisalign cleaning crystals:
1. Mouthwash
You can use mouthwash as an alternative to Invisalign cleaning crystals but they are not very effective. Mouthwash will not clean your aligners of debris and plaque. It can kill the bacteria but can also stain your retainers or aligners.
2. Hydrogen peroxide
Instead of Invisalign cleaning crystals, mix 3% Hydrogen peroxide with equal parts water and soak your aligners in the mixture for 15-30 minutes. Rinse it under lukewarm running water, use a soft-bristled brush to clean any debris or lodged food particles, and rinse again under running lukewarm water.
3. White distilled vinegar
Distilled white vinegar is one of the few good Invisalign cleaning crystals alternatives. Mix 3-parts of warm water with 1-part white distilled vinegar. Soak your aligners for 15-30 minutes. Rinse it under running warm water and clean it with the soft-bristled brush and then clean it under running lukewarm water again.
4. Commercial cleaning products
If you want, you can also go for commercial cleaning products as the Invisalign cleaning crystals alternative. Retainer Brite and SonicBrite are two good and most popular options that can help you in removing stains and killing bacteria. To clean your Invisalign braces, you can use Effervescent cleaning products.
Tips for keeping your aligners clean
Try to clean your aligners twice every day- once before you put them on and once after you take them off. This will prevent bacteria and germs from building inside your aligners.
Take your retainers or aligners off before eating. The food and beverages you consume can stain and damage them. Food particles can get stuck in the trays like they would in your teeth. And sometimes they can get transferred to your mouth, leading to plaque. If you left unattended, the plaque can turn into tartar that can further turn into gingivitis if not removed in time.
When you are not using the tray, keep them in a case. It will protect them from damages and bacterias.
Along with brushing your teeth, floss as well. It will keep your teeth clean and in turn, your aligners will stay clean.
To protect your aligners from Strep, E.Coli, Staph, Candida, etc. soak them.
Conclusion
The aligners are your way forward to stunning teeth and a beautiful smile. Like your teeth, aligners can get stains as well or collect debris from food particles. And that's why they need to be cared for as well, just like you would care for your teeth. You should clean your aligners and retainers at least once every day. It will prevent them from changing color or having a bad odor. Invisalign cleaning crystals are the best way to keep them clean and the easiest as well. And you can find it easily in the stores that sell dental supplies or buy it from online stores.
Invisalign Cleaning Crystals FAQs

How often should you use Invisalign cleaning crystals?
You should use Invisalign cleaning crystals at least once a day, although using them twice is preferable. Clean them before you put them back on in the morning and after you take them off in the night. Also, you can use it to clean your aligners or retainers every time you have dropped or put them somewhere. Keeping the retainers and aligners clean is important to protect your teeth and gums from bacteria, gum diseases, and infections.
How long do you leave Invisalign cleaning crystals?
You can leave your aligners in the Invisalign cleaning crystals solutions for a minimum of 15 and a maximum of 30 minutes. That will clean them thoroughly. Leaving them in for less than15 minutes might not be enough to soak and flush the dried debris and bacterias out and leaving them in for longer than 30 minutes can damage the surface of your aligners. 
Where can I get Invisalign cleaning crystals?
You can get Invisalign cleaning crystals from any store that sells dental supplies. You can also buy them online. You can also ask your dentist for Invisalign cleaning crystals reviews. From a specific place. It will help you get the best quality cleaning crystals at a reasonable price. You can buy the pack with the cleaning tub or without it, depending on your need.